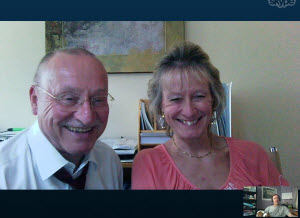 2
min reading time
I just met the loveliest couple, Steve and Chris Sandland of SMS International, Essex, UK-based contract manufacturers.
And they inspired this post, originally entitled, "Love Thy Neighbor."
Almost all their business comes from direct referrals and repeat business. To their recollection, they have NEVER won a new account based on the strength of their website or their marketing.
Pressed, they said, "We tried lots of stuff."
Which I correctly interpreted (they confirmed), "You mean you have no marketing strategy so when someone pitched you something, you said, 'Ok, we'll try it for £500' and, when it failed, you said, "That was a waste of money."
I said, "Then I have no reason to believe we are going to change that dynamic. Yes, you can tighten your messaging and update your site, but that's not going to drive your business."
How They Came To Phone Me Today
Steve is a member of the Medical Devices Group I lead on LinkedIn. Today I published a post called "Disruption in the CPAP Market?" which interested him.
I said, "Do you see what happened today? I wrote a piece about which I know virtually nothing. And it yielded this phone call. At which point I could have sold you a new website."
I warned, "Most people will sell you their services once they get you on the line. And told him, "I'm not going to do that because you don't need me. You already know what to do."
Your Free Marketing Program
"Steve," I said, "Did you forward my CPAP email to people you know in the CPAP space?"
"No."
"That's the best free marketing program I can give you. Forward an email to a friend who would value the article. It will tell them three things:
1. I know you are interested in this content.
2. I was thinking about you.
3. I'm current on these developments. We should talk sometime soon."
And you don't need to wait until someone else writes something relevant. You can write your own article or note. You can say, "By the way, I'm working on a fill-in-the-blank. Do you know anyone with whom I should be speaking?"
Love Thy Neighbor
Said another way, Love Thy Neighbor.
Remind them s/he is important to you. Remind him/her you exist, you're relevant, and you should talk.
That's better than any marketing program I can sell you.