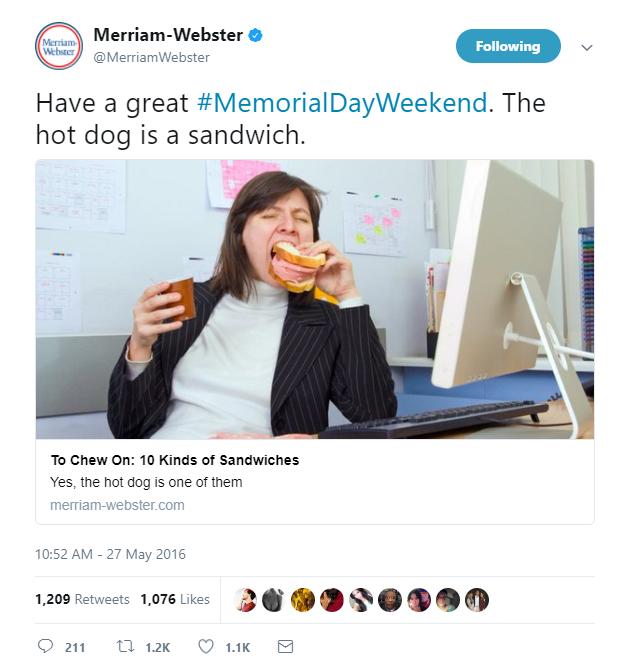 3
min reading time
From Jay Acunzo's keynote
I should explain the photo above. Jay told us how stodgy Merriam-Webster lit up the Internet with a simple tweet. It got untold press for it.
His site: SorryForMarketing. Best practices easily found, easily copied by everyone else. If we aspire to be more than average, we have to stop doing average work.
We google everything: We go from question to answer immediately. We used to explore possibilities and question ourselves.
Death Wish Coffee was born from a struggling coffee shop where some of his customers asked, "What is the strongest coffee you can make me?"
Ask yourself, what are the best practices for us? From commodity to exception: it's not strong coffee, it's the ability to "work yourself to death." Are we spending more time learning about content marketing or about our customers? What is our customers' death wish?
You, Audience, Resources: As these three questions. What is our aspiration? Not: let's grow our followers, not let's go viral, but let's show the world how fun we really are. "The hot dog is a sandwich." YOU are the competitive advantage your competition does not have.
How long could you talk about your customers without mentioning you?
Click To Tweet
What is your aspirational anchor? Why are you the person or team to do it? You.
What is your first-principle insight? Who are your true believers? Audience.
What are my constraints? How can I expand? Resources.
When you need to be creative, constraints are your strengths. Constraints help scale our content based on results, not trends.
Lee Odden on Big Brand Influencer Marketing: Trends and Best Practices
Lee Odden's slide presentation is available on SlideShare. You might consider using SlideShare to distribute your content.
Co-create content with influencers for mutual value. Ask, what is the measurable value for them and for you?
Only 11% of B2B companies are running influencer marketing programs.
It's okay to open with "We have a marketing program. We believe you share the same objectives. We will ask you to promote the content when we are done."
(At this point, I'm thinking to myself: To "court" an influencer is A LOT OF WORK – and it's something I can't outsource because I'm the one who would engage them. I'll ask Lee.)
He recommends BuzzSumo too.
Izea is an influencer marketing tool (more common for B2C, bid based); Linqia is another.
Traackr can help you find influencers
Onalytica will make influencer-based recommendations based on a draft of the content you are writing (nice!)
If you can't empathize with your influencers' situations, you won't be as successful.
Here's Lee's 97-second answer to my question about the work ahead. You may not like his answer.

How to Build and Maintain an Audience with a Remarkable Email Newsletter: by Scott Monty
People don't trust brands anymore. Even down from last year: about government, media, non-profit organizations. And email isn't as special: You can get your message on text and so many other places.
Every social platform is predicated on having an email address to register and sign in.
Integrating your email opens and clicks to your website activity (where did they go?) are "table stakes" now, but 23% of brands don't do that.
An 18.8 percent open rate for emails that start with the person's name. 13.1 percent without.
86% want to hear monthly from the companies they do business with. And then my computer battery died so I created the three tweets below.

Curation is the most important part of content creation – @ScottMonty at #CMWorld

— JoeHage | #MedDevice (@MedicalMarcom) September 6, 2017
This ruined the excitement of getting an email: Scott Monty at #CMWorld pic.twitter.com/xKHQqirju5

— JoeHage | #MedDevice (@MedicalMarcom) September 6, 2017
Good newsletters have these. @ScottMonty at #CMWorld pic.twitter.com/C9a2va8NgT

— JoeHage | #MedDevice (@MedicalMarcom) September 6, 2017
From Boring to Brilliant: How B2B Content Marketers Re-Mix Mainstream Successes into Content Marketing Gold – with Carla Johnson
One example of a business-to-business company using humor to introduce their product.

So do we have to do whitepapers and press releases for medical devices? Yes, but not exclusively. What is the personality of our brand?
Observe – Distill – Relate – Pitch: Observe what's going on around you, distill an insight, relate it back to your brand, then sell it!
The Keynotes: Robert Rose and Casey Neistat
By this time of the day, I was tired of taking notes. Robert was excellent, this is the part of his website that covers his talk: https://contentadvisory.net/audience-valuation.
Content producers. Look at their market cap. #CMWorld pic.twitter.com/BgsxRyOjUt

— JoeHage | #MedDevice (@MedicalMarcom) September 6, 2017
The main takeaway from @Robert_Rose is:
Addressable audiences are the new product. We are all in the audience business. Click To Tweet
Casey Neistat is a filmmaker who had a hard life growing up. He discovered his passion and his voice through video. The main point of his presentation was, "Be honest. People can easily smell bullshit and tune it out."
He really "took off" after he made this extraordinary #MakeItCount video for Nike. They didn't know what to make of it at first. Then it went viral. It's very entertaining if you have 4:38 minutes to spare.