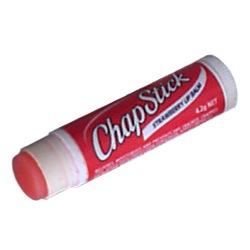 4
min reading time
A guest post from Ted Rubin, a dear friend and leading social marketing strategist who coined the term ROR: Return on Relationship.
For your takeaway: I am sharing Ted's article for medical device marketing clients who ask whether they should allow comments on their blogs or how they might use Twitter.
What do the words "butts," "ChapStick," and "social" have in common? They are the three categories assigned to Tim Nudd's recent AdWeek article, "ChapStick Gets Itself in A Social Media Death Spiral."
So what happened? Long story short (read the article for full details), ChapStick posted an ad that was offensive to some people, and when those people voiced their opinions on ChapStick's Facebook Fan Page, ChapStick deleted those comments … and kept deleting comments as they were posted.
As I see it, ChapStick made three poor choices:
Poor Choice #1: Staying quiet
Poor Choice #2: Trying to whitewash their public space
Poor Choice #3: Trying to make the whole situation go away
ChapStick's controversial ad did not need to start a firestorm of negative feedback and perception. If it had been handled differently, it could have been a powerful opportunity to strengthen and broaden the ChapStick brand reputation.
Fix #1: Respond out loud(!) as soon as the first customer speaks up.
When it comes to social media, silence is often louder than words. A quick Facebook post from ChapStick in response to the first customer complaint could have opened a conversation, providing a chance for ongoing interaction and the start of a mutually-respectful relationship between brand and customer. Other Facebook fans (or Twitter followers) who read that exchange would also get a chance to build a positive opinion about ChapStick because of their willingness to listen to – and really HEAR – the customer feedback.
I did notice, however, that fans also spoke up on ChapStick's behalf. They acknowledged the strength of the ChapStick product and, judging by the intensity of some of the fan Facebook responses, they actually CARED about ChapStick's reputation. It got personal.
That is ROR, a strong Return on Relationship: Your customers/fans/followers going to bat for you, standing up for you and your reputation, and staying loyal to you even when you make mistakes or show imperfections.
Fix #2: Be authentic and transparent.
What brand would you be more likely to do business with: One that encourages and engages in open, honest conversation or one that filters their public persona to portray a squeaky-clean white-washed image?
The true display of transparency is having the courage to respond to negative customer feedback – not to simply remove a realistic piece of the picture! The response from ChapStick made it worse:
We apologize that fans have felt like their posts are being deleted and while we never intend to pull anyone's comments off our wall, we do comply with Facebook guidelines …
If your customers think you messed up (whether YOU think you did or not), take responsibility for the problem AND the solution. That is how credibility is strengthened and relationships are built.
Fix #3: Embrace criticism.
Criticism is a great opportunity to show what your brand is really made of. Will you run from it or take it as a chance to learn more about what your brand's customers/fans/followers REALLY want and need from you?
ChapStick tried (eventually) to leverage this situation as a chance to state their appreciation of customer feedback with this statement:
We're aware of the discussion going on across social media, and we're listening. We love our fans and adore your passionate voice around ChapStick.
The problem is after someone has their comment deleted, the declaration of love and adoration no longer means much. You can say you're listening, but until you ask your customers/fans/followers clarifying questions and share your resulting ACTION plan, words are just words.
Listen, ask, listen, act, again and again. THAT is how you turn criticism into the chance for ongoing relationships and a high ROR (Return on Relationship).
Actually, we should all thank ChapStick … for "taking one for the team" by showing us why every brand needs to have authenticity, transparency, and huge dose of courage in their social media strategy.
…
Postscript: I found this in my files today. I don't remember from whom I copied this. I did not write it and do not take credit for it. Thought it was interesting and relevant to this conversation.
How To Diffuse An Angry Customer.
1. Acknowledge the problem and show compassion. Your customer has a right to be angry. Start with, "I can hear you are very upset," and pause. Let him agree, "You're damn right I'm upset!" Follow up with, "Sir, you have my complete attention. Please let me know the details and I'll do my very best to help you today."
2. Be patient and speak softly. At all costs, do not interrupt the customer when he is venting. Eventually, he will run out of gas and you can wade back into the conversation softly, reiterating your compassion. Remember, however frustrated the customer is, he did call you for help. At some point, he will have to listen to what you have to say in order to gain any resolution.
3. Repeat after him. Make sure you understand all his issues. Say, "If I understand you correctly, this is what you would like me to do."
4. Become the advocate. Let the customer know you are taking ownership over the problem. He doesn't have to talk to other departments and repeat himself. You will get to the bottom of the issue. Alas, if you repeatedly need to hand customers over to another department, perhaps the company needs to review its division of labor and its policies. Not every organization is set up for successful customer interactions.
5. Correct the issue and follow up. Everything we've discussed up to this point relates to the customer's emotional state. Only after the customer recognizes he has a "friend" on the phone should you begin to address the technical difficulty. Call in the resources you need for resolution but remain the customer's point person throughout. Follow up with the urgency the customer requires. You may turn his bad experience into a decidedly positive one.
Note: Determine what went wrong and work internally to correct the fundamental issue to avoid duplicating the problem with other customers.